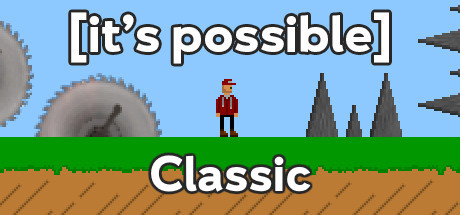 Players: Single-player. Steam Achievements. Partial Controller Support. Stats. Includes level editor.
Tags: Casual. Indie.
System: Windows.
45899877
10.8 days
0 recent

Personaly I loved this game its simple fun and sometimes just plain funny. I played with a few freinds with me watching and we all had a great time if you have a free 2 bucks I would recomend picking this up just for some good fun.
46166584
3 hours
0 recent

I died 673 times on my first playthrough XD
45903363
2 hours
0 recent

A game
50309775
1 hours
0 recent

[it's possible] is a really great rage game, with some pretty decent controls. It takes a minute to get used to, and can get very frustrating from time to time, but I'm pretty sure that's intended. I got a solid hour out of it before I moved on to wanti
100055501
1 hours
0 recent

Good and easy game although just takes time to play but easy to learn and understand. Doesn't cost to much either and easy to get all achievements.
45922543
0 hours
0 recent

Mildy infuriating and very fun. Worth well over two dollars for very good amount of playtime <3
52736145
0 hours
0 recent

juego sumamente recomendado! demasiado vicioso! jajaja, un 7!
45919750
0 hours
0 recent

exactly what you think it is
47100232
0 hours
0 recent

not only is it possible, its also plausible
47364418
0 hours
0 recent

Reminiscent of those old flash rage games. The music is cheery, but gets a little repetitive after a while. The game itself is fun, but some of the levels have ridiculous challenges where skill doesn't matter, you just have to have blind luck. Overall, th
45902093
0 hours
0 recent

Yes