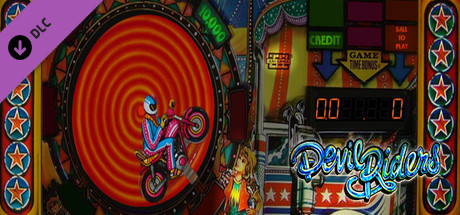 Players: Single-player. Shared/Split Screen. Cross-Platform Multiplayer. Downloadable Content. Steam Achievements. Full controller support. Steam Trading Cards. Steam Cloud. Steam Leaderboards.
Tags: Casual. Free to Play. Simulation. Sports.
System: Windows. Mac. Linux.
119660222
0 hours
0 recent

rigged not fun unfair
116881162
0 hours
0 recent

[b]TL;DR Summary: I have no issues with tables that punish missed shots, but this one punishes successful shots as hard as misses, and the "reflex" manual kickback that theoretically mitigates this is victim to it as well.[/b] Definitely the worst table
90616091
0 hours
0 recent

Played a game and all 3 balls somehow exited down the side lanes without me getting a single chance to hit the ball. Shit table.
80826212
0 hours
0 recent

I really do not like the Devil Riders table. It looks very nice. The sounds etc are very good, but it drops the ball down the center too often. In my last game it dropped straight down or off to the left 3 times in a row and 4 balls out of 5. I'm not here
45590590
0 hours
0 recent

Приобрести этот DLC отключает ограничение на эту таблицу!