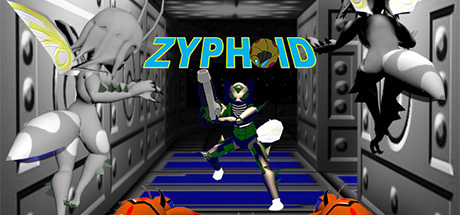 Players: Single-player. Partial Controller Support.
Tags: Action. Adventure. Indie.
System: Windows.
61605254
4.5 days
0 recent

Zyphoid is a game deeply inspired by the Metroid series, combining the 3D gameplay of Metroid Prime with the specimen hunting of Metroid 2. The game is open-ended and poorly signposted in a way that encourages exploration and experimentation, and the game
100811662
6 hours
0 recent

Zyphoid is one of those "so bad it's good" games, but not just for comedic value. Compared to the dev's only other non-FTP game, Sword of the Black Stone, there is a very real sense of improvement between them. The gameplay is a lot more solid, the music
86573459
5 hours
0 recent

N J Fox is by far my favorite outsider artist, their games have a very specific aesthetic and this is by far their most ambitious. I love these games because of their flaws and ambition, and I hope to see another N J game come out at some point.
71857715
4 hours
0 recent

"So bad it's good" often doesn't apply to games because of the time investment required. However this game defies that due to its hilariously broken gameplay, frequent typos and its pure amateur spirit.
76316864
1 hours
0 recent

bruh
111787942
0 hours
0 recent

Metroid Prime but good
67155595
0 hours
0 recent

This is the second worst functional game I have ever seen on steam, beaten only by Chili the Chipmunk Pinball Adventure from this same dev. But that was cancelled and is listed for free, so it's a quick 5 minute "oh my god why" kind of thing that harms n
133142301
0 hours
0 recent

Gotta say, this is definitely one of the games of all time right here